LATEST NEWS
15 June 2020
No 2 - COVID-19 POLICY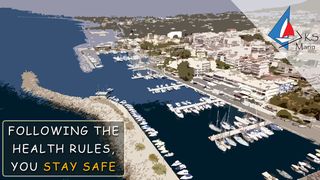 As you know this summer season, we are obligated to comply with the directions of the government's health protocol for the Covid-19.
Taking care of your precious health we have applied in Kalamata marina the official health protocol.
According to the health protocol, all the necessary measures have been taken by the marina's staff, in order to keep you safe and clear from the SARS-CoV-2.
Complying with the health protocol, you are requested to follow some simple directions:
Provide a health declaration of your boat including health data of the crew and passengers on your arrival.
Keep a safe distance of 1,5 meters between you and other people during your move in the marina's area.
Follow the exact international standards and practices for your personal hygiene.
Follow the directions giving by the marina's staff.
Don't' hesitate to report any suspicious incident to the marina office.
FOLLOWING THE HEALTH RULES, YOU STAY SAFE.
You will find more details on the Greek government web site: http://www.visitgreece.gr/en/home/about_covid_19
We remain at your disposal for any additional help.